Taxi to Velden
Ljubljana airport Taxi Transfer to Velden am Worthersee



Do you need low cost taxi to Velden am Worthersee from Airport Ljubljana - taxi transfer price already from 90 eur via Ljubelj for a car

Velden am Wörthersee is a market town in Villach-Land District, in the Austrian state of Carinthia. Situated at the western shore of the Wörthersee lake, it is one of the country's most popular holiday resorts.
The municipal area of Velden also includes the Katastralgemeinden of Augsdorf, Dieschitz, Duel, Kerschdorf ob Velden, Köstenberg, Latschach an der Drau, Lind ob Velden and Sankt Egyden.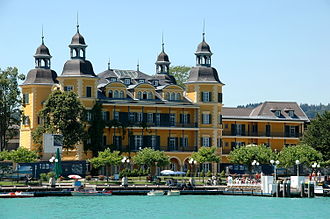 How do you order cheap transportation or transfer to Velden from Ljubljana airport
Option 1 - Most of the transfers services from airport are covered with middle class vehicles such as ww passat - ww sharan - ford mondeo - peogeot 5008 - fiat chroma up to 4 person - small lugagge

Option 2 - you can order from airport Ljubljana private transfers with van vehicle mercedes vito or opel vivaro up to 7 person

Option 3 - online book order transfers service from airport Ljubljana with prestigious limo cars to Velden hotel or apartment, to Velden congress or conference meating such as AUDI A8 or BMW 7 or MERCEDES E up to 3 person or taxi fare with van MERCEDES V250 4matic up to 7 person - the transport price is a bit higher.
Send us email, ask for the price of the your transport...
When you confirm order transfers service from airport Ljubljana with "Taxi Legends" to Velden, we will be waiting you on the exit airport Ljubljana terminal when you will be arrival with your name and take you by car to your Velden destination.

Taxi to Velden am Worthersee from airport Ljubljana - Taxi transfer to Velden am Worthersee from Ljubljana city - Taxi service to Velden am worthersee from Bohinj - Taxi connection to Velden am Worthersee from Bled - Taxi transfers to Velden am Worthersee from Portorož - Taxi fare to Veleden am Worthersee from Piran - Taxi transfer to Velden am Worthersee from Trieste airport - Taxi connect to Velden am Worthersee from Venice marco polo airport - Ljubljana airport Taxi service to Velden am Worthersee - Transfer airport Ljubljana to Velden am Worthersee - Airport Ljubljana transfer to Velden am Worthersee - Taxi to Velden am Worthersee from Zagreb airport - Taxi to Velden am Worthersee from Rijeka airport - Airport Zagreb transfers service to Velden am Worthersee - Airport Rijeka transfer to Velden am Worthersee - Airport Fraport Ljubljana transport to Velden am Worthersee - online book order transfer to Velden from Ljubljana airport or from Ljubljana town - online book order luxsury taxi to Velden with audi a8 or bmw 7