Taxi to Portorož
Taxi transfer to Portorož from airport Ljubljana.
Taxi to Portorož

Portoroz is a famous tourist city in the Slovenian coast. It is a popular place to relax, entertain and also for work. The town began to develop already in the Roman period. In the 13th century became locally known as a resort place. Today is Portoroz full with hotels, restaurants, bars, casino, old villas and more. We can see the auditorium, a marina, interesting churches, railway tunnel on the route Triest – Porec (Parenzana) and many other. The most famous hotels are Kempinski Palace Portoroz, Grand Hotel Metropol and Casino, Grand Hotel Portoroz, Grand Hotel Bernardin and others. The nightlife takes place in bars on the beach as are Alaya and Pepper Club. The Portoroz Auditorium is a cultural, promotional and conference centre. Marina Portoroz is a modern port, located on the edge of Portoroz. It is an ideal starting point for cruises in the Adriatic Sea.
Do you need Taxi to Portorož hotel - transfer to Portorož apartment - transfer service to Portorož resort from Ljubljana airport - taxi price already from 110 eur for a car
Do you have a congress or business meating in Portorož and you need transport??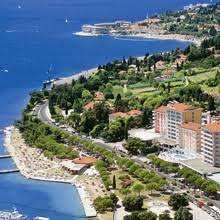 Ljubljana airport taxi to Portorož resort - Airport Ljubljana taxi travel to Portorož beach - Fraport Ljubljana taxi connection to Portorož coast - Ljubljana fraport taxi trip to Portorož congress - Taxi ride to Portorož business meeting from Airport Ljubljana - Taxi travel to Portorož hotel from Ljubljana airport - Taxi transport to Portorož apartment from Bled - Taxi connection to Portorož flat from Bohinj - Taxi to Portorož tourist spot from Klagenfurt airport - Klagenfurt airport taxi to Portorož popular tourist destination - Trieste airport taxi transfer to Portorož vacation - Venice airport to Portorož holiday - Taxi transfer service to Portorož airport from Marco Polo airport - Treviso airport taxi travel to Portorož yacht resort - Zagreb airport taxi transfer to Portorož sunbathing resort - Taxi transfer to Portorož surfing from airport Zagreb - Taxi order to Portorož water skiing from vienna airport - online book order taxi transfer to Portorož from Ljubljana airport